Slant Back™ Bolt on Hardtail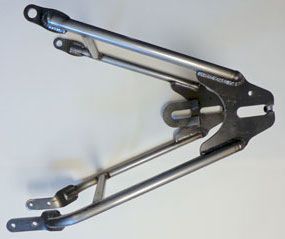 Slant Back™ Bolt on Hardtail
BACK ORDERED UNTIL FALL OF 2020.  YOU MAY STILL PLACE YOUR ORDER, IT WILL PUT YOU ON OUR BACK ORDER "FIRST COME, FIRST SERVE" BASIS. THANK YOU FOR BEING OUR CUSTOMER!
For: Harley Davidson Sportsters
From 1952-1978
Just like our Straight Back bolt on, except the axle plates are smaller creating a small bend in the frame line.

Kit includes the same extended brake rod & chain as with straight back kit.
THIS PART IS SHIPPED AS RAW STEEL!
Click here for more information on this part.
Hardtail FAQ:
http://www.hammerinhandcycles.com/FAQ.html
Reviews