Straight Back™ Weld on Hardtail 52-78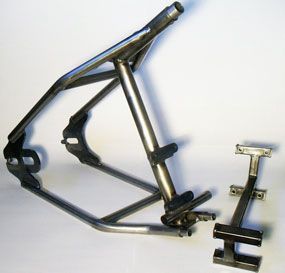 Straight Back™ Weld on Hardtail 52-78
BACK ORDERED UNTIL FALL OF 2020.  YOU MAY STILL PLACE YOUR ORDER, IT WILL PUT YOU ON OUR BACK ORDER "FIRST COME, FIRST SERVE" BASIS. THANK YOU FOR BEING OUR CUSTOMER!
For: Harley Davidson Sportsters
From 1952-1978
 If converting to a disc brake system the rear of this hardtail will be the same as the 79-81 using a 3/4 axle, narrower spacing between axle plates, and late model chain adjusters.
Let us know if you are using Disc, and want to use the brake shaft crossover tube.
THIS PART IS SHIPPED AS RAW STEEL!
Click here for more information on this part.
General Questions: FAQ
Instructions: Installation Instructions
Reviews